Alice Peacock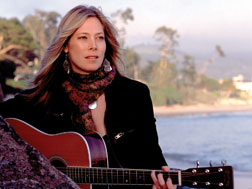 Who is Alice Peacock? The answer to that question is as multi-faceted as her talents and accomplishments as a Chicago-based singer-songwriter with three critically acclaimed CDs to her credit. Not content to simply sing about the world's problems, Alice took action to combat growing illiteracy rates in the United States by personally founding the non-profit organization Rock for Reading. A humanitarian whose passion for storytelling and music arose from her love of reading and libraries, she wanted to renew an interest in reading, and felt that Rock for Reading was the platform she needed to promote that cause.
As if being an accomplished musician, philanthropist, and activist wasn't enough, Alice is also President of the local Chicago Chapter of the National Academy of Recording Arts and Sciences (GRAMMYS).
Alice's passion for music, combined with her down-to-earth Midwestern roots, inspire the storyteller within her to compose and sing each song by telling tales that are so meaningful and familiar that each of us can easily relate to the introspective reflections found within her music. As a nationally recognized concert artist, influenced by musicians such as Carole King, Neil Young, Carly Simon, Jackson Browne, Randy Newman and Tom Petty, her music remains contemporary; comparable and more soulful than Sheryl Crow, yet with a reminiscent Seventies feel. Her articulate use of lyrics and language appeals to an intelligent audience appreciative of her way with words.
Alice Peacock CD "Who I Am"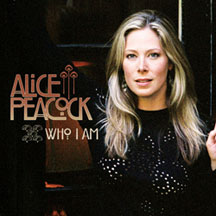 Her new CD, "Who I Am," premieres on July 4, 2006, and follows her two previous CDs "Real Day" (1998) and "Alice Peacock" (2002). All three CDs are available for purchase through www.alicepeacock.com (don't forget to sign up for her newsletter through her web site). It can also be found at major retailers such as Borders, Barnes and Noble, Best Buy, Itunes and Amazon.com.
Her newest album showcases the range and diversity of her talents as both a singer and songwriter. The resonance and purity in Alice's voice becomes the focus of her newest songs. The brilliance of this album lies in that each song successfully progresses into the next one to form a cohesive whole. Yet each song has a slightly different influence from jazz to classic Seventies to folk to contemporary singer songwriter. The accompanying acoustic piano and strings do not detract from her indescribably beautiful and soulful voice, which is one of the strengths of the album. Many tracks are in the same tradition as the song "Northern Star" from her second CD.
In addition to the title track, "Here I Go Again" and "Finding My Way" stand out as some of my favorites. "Sunflower" possesses a refined and sublime elegance that is just beautiful. The songs on the album stay with you long after they are done playing. After listening to Alice's music, you feel as if you spent the afternoon with a new friend.
We recently had lunch at Uncommon Ground, near Wrigley Field in Chicago, to discuss her new CD "Who I Am" as well as her philanthropic work for Rock for Reading. I found Alice to be warm, genuine, incredibly articulate and passionate about her music and philanthropic work. There was no hint or trace of a diva lingering beneath the surface of her demeanor. Her Minnesota upbringing and ties to the Midwest were evident in the down-to-earth approach to her music and cause to renew interest in reading.
Your new CD is titled "Who I Am."¬ÝTell me a little more about "who"Alice Peacock is and how you chose that name for your new CD.
The title song "Who I Am" (Track #13) on my new CD, was co-written with Dennis Matkosky (who has also written songs for Keith Urban and Boz Scaggs) and sums up who I am better than any of my other songs. It originated from my feeling a bit lost within the music industry. Today's music focuses on sales more than artistic achievement. What sells is what plays on the radio. Everything comes down to the bottom line. Artistic integrity and merit often becomes lost in the process.
The CD "Who I Am" focuses on artistic achievement rather than on entertainment, sales, and pop lyrics. While working on this project for Peacock Music, I felt that I finally found my own voice and became more aware of myself. As I began working on this song, the lyrics just flooded out of me.
Lyrics (chorus):
"I may stumble, I may fall
But I know that through it all
If to my own self I am true
Than I'm sure to make it through
It doesn't matter what you say
Cuz' I know I'll be okay
I know who I am"
I have always wanted to be an artist before an entertainer. I wanted to dig deeper and go places no one has gone before. The process and the journey is the most important. We should all take some time to enjoy the process of what we are doing and our journey to self-awareness.
What themes or messages are found in your music?
Self-awareness. The journey required to get there. Empowerment. Affirmation. Honesty. These traits embody what my music is about.
How is this CD different from your previous CDs "Real Day"and "Alice Peacock"?
I view this CD as a creative milestone. I have finally found my voice. This is the album where I come into my own. The songs on "Who I Am" are primarily accompanied by a piano, and nine tracks include a twelve-piece string section.
You are President of the Chicago Chapter of the National Academy of Recording Arts and Sciences (GRAMMYS). What type of work do you do for them?
As president I represent the Chicago and Midwestern music community on a national level. I also love that NARAS has many philanthropic initiatives such as MusiCares, which helps artists cope with financial and medical emergencies as well as drug and alcohol addictions. We use the available resources in the music industry to directly help these artists and I am more than happy to promote programs like this however I can.
Where do you see yourself musically in five years? What is your long-term goal with your music? Do you want to become famous?
I have no desire for fame. It is not something I strive for. Of course if I eventually earned a Grammy, it would be a meaningful expression of recognition bestowed upon me by my peers.
The more successful I become musically, the more meaningful work I will be able to accomplish through Rock for Reading. Look at Bono. He has used his fame as a platform to bring wider visibility to the world's problems and shed a new light on causes he is passionate about. I would love to do the same thing for libraries and reading. I would love to have the biggest musicians perform at my benefit concerts.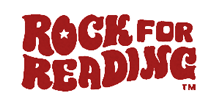 As a former librarian, I am truly impressed with the work you are doing through your non-profit organization Rock for Reading. Tell me more about Rock for Reading. How did the idea to form Rock for Reading come about?
I played Farm Aid with John Cougar Mellencamp one year, and witnessed firsthand the impact of this concert series' fundraising efforts and how it helped farmers and really made a difference in their lives. I thought that I should use Farm Aid as a model and use my music as a way to promote reading and libraries as well as to raise money to help combat growing illiteracy rates in the United States.
The song "I'll Start With Me" on my second CD, "Alice Peacock," was written with Kristen Hall and Emily Saliers (of the Indigo Girls) to inspire each of us to "Start with Me" to make a difference and to promote the causes that are near and dear to our hearts. The idea originated while we were sitting around Kristen's living room writing one evening. The news came on and there was a piece on the alarming rise of illiteracy rates. I decided that I needed to stand up and start with myself to find a solution to this problem. This was a cause of great importance to me.
You may not be able to control the rest of the world, but you are able to start with yourself to make a positive difference in this world. If everyone took action and stood up for the worthwhile causes they believed in, the world would be a better place.
Illiterate people have a harder time getting high paying jobs, which leads to problems of inadequate health care, which eventually leads to a health crisis. It is a never-ending cycle that can be prevented through education and learning to read.
How much money did Rock for Reading raise last year? What types of grants are available to libraries, literacy organizations, and after school programs?
Rock for Reading raised about $100,000 in 2005 with the help of concert fundraisers, corporate matching and charitable gifts. As a new, volunteer-based organization, we are always looking for ideas as to how the money will be best spent to make a difference and to reflect our mission statement. "The mission of Rock for Reading is to fight the rising trend of illiteracy and renew interest in reading."
Grant applications are available on www.rockforreading.com. We tried to make the application process as easy as possible. Right now our grants are being given to literacy programs, after school programs, and organizations with annual budgets of $250,000 or less.
We would like to expand Rock for Reading over time and we are always looking for new ideas. We encourage librarians, teachers, relevant associations, ESL programs and schools to contact us at any time with questions or ideas.
We are also looking for additional small business and corporate sponsors.
Inquiries should be e-mailed to hugh@rockforreading.com.
How can libraries continue to find out more about Rock for Reading?
I encourage librarians and interested individuals to keep up with the latest Rock for Reading grants and fundraising efforts by signing up for our newsletter at www.rockforreading.com.
What future fundraising ideas are you working on for Rock for Reading?
I am releasing a new single CD titled "You Might As Well Have Fun (While You're At It)"which will retail for $2.50. Approximately $1.50 of each disk will be put toward fundraising efforts and we are hoping to receive matching grants from sponsors. In addition, ten percent of all CD sales on the road and at shows will go toward Rock for Reading.
I will also be hosting a Rock for Reading concert on October 7, 2006 at the LaSalle Bank Theater.
Alice's Summer 2006 Concert Schedule:
June 17 - Prairie Home Companion 'Äì Ravinia Music Festival, Highland Park, IL
July 05 - PBS "Chicago Tonight" - WTTW/Channel 11, Chicago
July 09 - Naomi Judd's "New Morning" - Hallmark Channel
July 14 - Fox In The Morning - FOX TV, Chicago
July 14 - Tower Records - In-Store - Clark St. Chicago
July 16 - Camp David - Fish Creek, WI
July 17 - DTE Energy Music Theatre - Clarkston, MI (opening for Heart)
July 28 - Best Buy - In-Store - Naperville, IL
July 30 - 99x Concert In The Park at Piedmont Park - Atlanta, GA
Aug 01 - Apple Store Theatre on Michigan Ave, 7:00pm - Chicago, IL
Aug 08 - Schubas - Chicago, IL
Aug 15 - Schubas - Chicago, IL
Aug 17 - Jewish Mother - Virginia Beach, VA
Aug 18 - Whitaker Center for Science and the Arts - Harrisburg, PA
Aug 19 - Tin Angel - Philadelphia, PA
Aug 20 - Ramshead Tavern - Annapolis, MD
Aug 22 - Schubas - Chicago, IL
Aug 24 - Iron Horse Music Hall - Northampton, MA
Aug 25 - Johnny D's - Somerville, MA
Aug 29 - Schubas - Chicago, IL
Catalog of Alice Peacock CDs:
"Who I Am" (2006) Label: Peacock Music. ASIN: B000FDEUOO
"Alice Peacock" (2002) Label: Sony/Aware.com. ASIN: B00006F19Y
"Real Day" (1998) Label: Peacock Music. ASIN: B00000IFMS
Relevant web sites:
Alice Peacock: www.alicepeacock.com
Rock for Reading: www.rockforreading.com
Grammy: www.grammy.com
Chicago Chapter of the Grammy Association, the National Academy of Recording Arts and Sciences:
http://www.grammy.com/Recording_Academy/Chapters/Chicago/
Susan Franke's qualifications include a B.A. from Lake Forest College (1988) in English Literature and Philosophy and a M.L.I.S. Master of Library and Information Science degree from Rosary College (1995) 'Äì currently known as Dominican University. Susan worked for several libraries in the North Suburban Library System in Illinois for nine years as both a reference librarian and an outreach librarian. For the past three years she has owned and operated her jewelry design business www.susanfranke.com on a full time basis, and occasionally does freelance writing and volunteer work.
Copyright 2006. All rights reserved.
Interview may not be duplicated or reproduced without the written permission of Susan Franke and Alice Peacock.